Great Wass & Mistake Island Trip Report, February 2009
Disclaimer: The following Trip Report was written in February 2009 and is re-presented here for new paddling ideas and general interest. However, the specific trip details such as boat launch, parking, and other such things should be confirmed and reverified before following this route.
Until you have paddled in this area, it is difficult to appreciate how different and spectacular it is compared to the coast of Maine further south. It is true Downeast both off and on shore and a trip to the area is definitely worthwhile. The following trip description provides a full day's paddle that highlights many of the features in the area while staying in the somewhat protected area between Great Wass and Head Harbor Island. It is an area of austere granite ledges and islands with almost boreal arctic feel about them. Given the remoteness, the cold water, high tides, strong currents, and potential for big seas; it is important to give the area respect when planning a trip and deciding when to launch and where to go. In short, it is well to be prepared and to be self-reliant. With the right conditions, it is a wondrous place to paddle.
The best places to start are either the town dock on Beals Island or the town park on Beals Island. For a small group, adequate parking can be found in both locations. Using the town dock means travel through Pig's Gut which is a very narrow passage used by fisherman, but it is also passes along a scenic fishing village. From the town park you launch directly onto a more open area and avoid potential close traffic with fishing boats. From either launch site, the first leg of the trip is to paddle easterly toward Head Harbor Island amongst the many small ledges and islands in the area. Once near the island, turn starboard and wander about the ledges and small island as you head to Little Harwood Island. Along the way you are likely to see many, many seals hauled out depending upon the season ad tide. From Little Harwood Island, turn easterly toward Crow Point which is at the head of an enchanting area between Head Harbor Island and Steele Harbor Island called the Cow's Yard and a wonderful area to explore.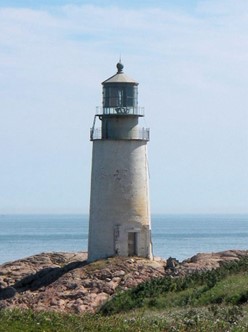 If conditions seem suitable, you can go through the Cow's yard and out Head Harbor to follow the exposed coastline of Steele Harbor Island to Mistake Island. On this exposed coastline even a modest swell can create large surges on the ledges so care is warranted. In additions, the chart indicates tide rips also form in this area. As you paddle in this area you will have spectacular granite ledges on one side and open ocean on the other. Soon the Moose Peak Light will come into view which is another impressive sight. Before reaching Mistake island, turn westerly to paddle along the large granite ledges of the Main Channel Way until you reach the end of Knight Island.
To visit the Moose Peak Light, you round Knight Island and paddle down its southerly side until you reach Mistake island and a bar between the islands which makes a nice landing area. You will see a board walk from an old boathouse which goes the length of Mistake Island to the light. There are great views along the boardwalk and at the light. Odds are you can scan the surrounding waters from the light and see no other vessels of any kind or at most a fishing boat or two.
If conditions are not suitable, you can retrace your steps from the Cow Yard and use more protected waters to reach Mistake Island keeping in mind "protected waters" is a relative term in this area. If conditions might develop beyond what you wish to paddle in, then returning to Beals by retracing your steps or going further up the bay until you can cross to Great Wass before continuing to Beals is an option. Otherwise, from Mistake island you can wander through the ledges surrounding Water Island and cross the Mudhole Channel to a very nice, protected large pocket beach next to Little Cape Point on Great Wass island. This makes for a great lunch stop as the views are stunning, and you can look for the remains of a whale skeleton about 200 meters down the beach slightly above the high tide level.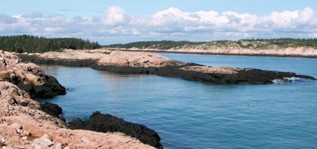 If you have the tides right, the remainder of the trip should be a fast ride back to Beals Island along the spectacular shore of Great Wass Island. Places to explore on the return include the Mudhole and the aquaculture pens for raising Atlantic Salmon. Altogether this paddle provides a good introduction to the area without getting as exposed as a trip to Halifax Island would be which is another great destination when combined with a circumnavigation of Roque Island. While this paddle is only around eleven miles, it may seem longer due to the varied scenery and remoteness.